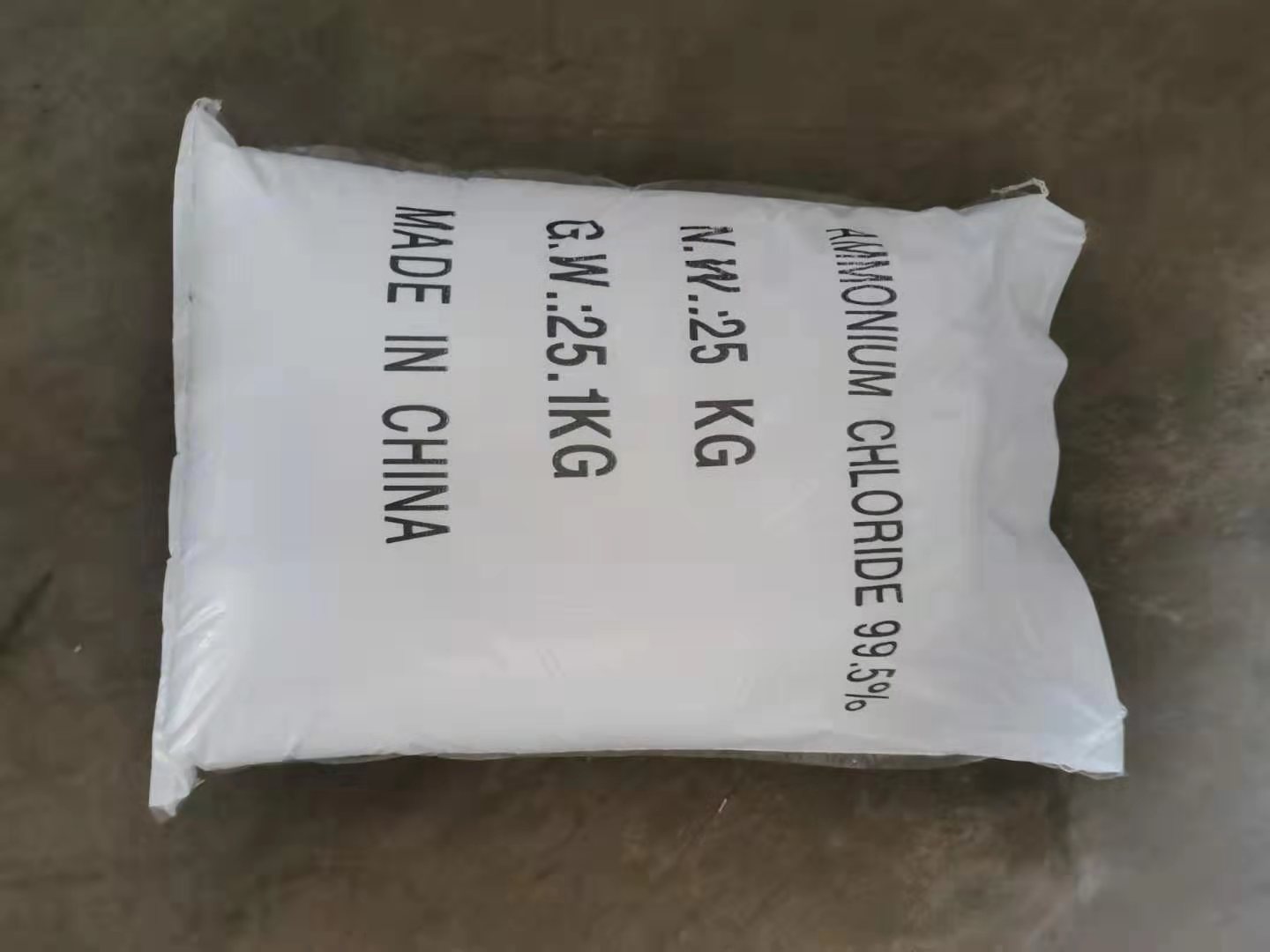 AMMONIUM CHLORIDE
SPECIFICATION:TECH GRADE WITH ANTICAKING
STANDARD : GB2946-2008 PACKING : 25KG/BAG
Analysis data
Item

GB2946-2008

Result

Ammonium Chloride %≥

(NH4CI)

99.5

99.52

Moisture %≤

0.5

0.08

Residue on Ignition %≤

0.4

0.08

Heavy Metal(Pb) %≤

0.0005

0.0004

Sulphate %≤

0.02

0.015

Fe %≤

0.0007

0.0003

PH 200g/l 25℃

4-5.8

5.1
Application:
Mainly used in dry batteries, batteries, ammonium salts, tanning, electroplating, photography, electrodes, adhesives, etc.
Physical appearance:
white crystal powder or granule; odorless, taste with salt and cool. Easy agglomerating after moisture absorption, soluble in water, glycerol and ammonia, is insoluble in ethanol, acetone and ethyl, it distillates at 350 and was weak acid in aqueous solution. Of ferrous
metals and other metals are corrosive, in particular, greater corrosion of copper, non- corrosive effect of pig iron.
Packaging:25 kg plastic woven bags in Chinese or English packaging, other packaging can be customized according to customer requirements.
Main Use:
Mainly used in mineral processing and tanning, agricultural fertilizers. It is Auxiliaries for dyeing, electroplating bath additives, metal welding co-solvent. Also used in making tin and zinc, medicine, system of candles, adhesives, chromizing, precision casting and manufacture of dry cells, batteries and other ammonium salts. production method
The hydrogen chloride gas is introduced from the bottom of the turbulent absorption tower, and is contacted with the circulating mother liquor sprayed on the top of the tower, and a mother liquor of ammonium chloride generating saturated hydrogen chloride flows into the reactor and neutralizes ammonia gas to generate a saturated solution of ammonium chloride. . It was sent to a cooling crystallizer and cooled to 30-45°C to precipitate supersaturated ammonium chloride crystals. The crystallizer's upper ammonium chloride solution is sent to the air-cooler for cooling and recycled to the crystallizer; the lower crystal slurry is thickened and then centrifuged to obtain the ammonium chloride product. The mother liquor of HCl+NH3→NH4Cl after centrifugation is sent to the turbulent absorption tower for recycling.
Storage method:
Should be stored in a cool, ventilated, dry warehouse, pay attention to moisture. Avoid storage and transportation with acids and alkalis. Avoid rain and sun exposure during transportation. Be careful when loading and unloading to prevent damage to the package. In the event of fire, water, sand and carbon dioxide extinguishers can be used to save.