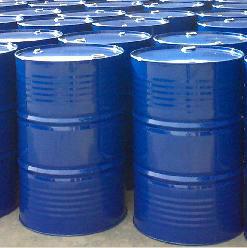 Trichloroethylene
1.Product Profile
Exeuctive Standard: HG/T2542-93
Physical state and appearance: Liquid.
Molecular Weight: 131.39 g/mole
Color: Clear Colorless.
pH(1% soln/water): Not available.
Boiling Point: 86.7°C (188.1°F)
Melting Point: -87.1°C (-124.8°F)
Critical Temperature: Not available.
Specific Gravity: 1.4649 (Water = 1)
Vapor Pressure: 58 mm of Hg (@ 20°C)
Vapor Density: 4.53 (Air = 1)
Volatility: Not available.
Odor Threshold: 20 ppm
Water/Oil Dist. Coeff.: The product is equally soluble in oil and water; log(oil/water) = 0
Ionicity (in Water): Not available.
Dispersion Properties: See solubility in water, methanol, diethyl ether, acetone.
Solubility:Easily soluble in methanol, diethyl ether, acetone. Very slightly soluble in cold water
Appearance: Colorless Clarification, without suspended matter, no mechanical,easy to volatilize, has a special smell, slightly soluble in water, and alcohol, ether, benzene, petroleum ether and other organic solvents to arbitrary proportion miscibility, easy oxidized to phosgene in the air, and also with water and ethyl ether can be formed azeotrope.

2. Purity:
99.60%min

3.Packing:
280kg drum ,IN BULK

4.Application Fields:
1)The main use of trichloroethylene is in the vapor degreasing of metal parts.
2)Trichloroethylene is also used as an extraction solvent for greases, oils, fats, waxes, and tars, a chemical intermediate in the production of other chemicals, and as a refrigerant.
3) Trichloroethylene is used in consumer products such as typewriter correction fluids, paint removers/strippers, adhesives, spot removers, and rug-cleaning fluids.
4) Trichloroethylene was used in the past as a general anesthetic.
Specification
Items

Units

Specifications

Appearance

Transparent liquid without suspended solids and sediments

Purity

%

99.6min

Color,Pt-Co

15max

Density(20℃),

g/cm3

1.460-1.464

Distillation Test(0℃,101.325KPa)
Initial Distilling Temp
Completely Distilled Temp
95% Distilled Temp

℃
℃
℃

85.5min
91.0max
88.5max

Water Content

ppm

100max

Non Volatile Matter

ppm

50max

Alkalinity as NaOH

ppm

250max

PH

8-10

Acidity(Counted by HCl)

ppm

10max

Acidity after Oxidation

ppm

200max
Summary: Trichloroethylene (TCE) is a nonflammable, colorless liquid with a somewhat sweet odor and a sweet, burning taste. It is used mainly as a solvent to remove grease from metal parts, but it is also an ingredient in adhesives, paint removers, typewriter correction fluids, and spot removers. Trichloroethylene is not thought to occur naturally in the environment. However, it has been found in underground water sources and many surface waters as a result of the manufacture, use, and disposal of